ISMEC 2014 has arranged special rates with four downtown Hotels.
You have to directly contact the Hotels for room reservation, declaring themselves as ISMEC 2014 partecipants. The special offer will end on March 31st.
The map below shows their location, roughly 20-30 min walking distance from the conference venue;  bus lines are also available.
Bus from hotels to Conference venue: ATM-Line Bus n. 3 direction "Montebolone".
For Hotel Excelsior, Hotel Moderno, Hotel Aurora the  bus stop is in Pavia Station square, for  Hotel Rosengarten in front of the Hotel. Get off at "piazza Vittoria" stop. In 5 min walking you can get the symposium venue (Aula del '400 University of Pavia, Piazza Leonardo da Vinci 5, 27100 Pavia). Look at the Pavia map to get directions.
Hotel Excelsior – Piazzale Stazione 25, 27100 Pavia (PV) phone: +39 0382 28596, e-mail: info@excelsiorpavia.com
The 3-stars Hotel Excelsior enjoys a central location, in the railway station square, just a short walk from the historical centre of Pavia. The hotel has been recently refurbished and provides a warm and welcoming atmosphere, rooms with all the traditional comforts, an underground car park and is close to all public transport. The rooms are equipped with all the traditional comforts: air conditioning, Wi-Fi, TV, direct telephone line, room service, refrigerator, safety deposit box, shower, hairdryer, hotel cosmetics, wake up call.
Single room: 65  €
Double room for single use:  75  €
Double room: 90 €
(breakfast included)
Hotel Rosengarten – Via Lombroso 21/23, 27100 Pavia (PV) phone: +39 0382 526312,  e-mail: info@rosengarten.pv.it
Situated in via Lombroso 23 (Piazza Golgi) in front of the hospital "Policlinico S. Matteo", in the middle of the Scientific Departement of the University, which also includes the hospital Foundation CNAO, Foundation Maugeri and Foundation Mondino.
The rooms have bathroom, telephone, tv and air conditioning.
Restaurant, bar, car parking, large outdoor parking, large indoor garage with lift to the rooms, reading room, modern conference room capacity 30 people. Free wi-fi in all rooms
Single room: 67 €
Double room for single use: 85 €
Double room: 95 €
(breakfast included)
Hotel Aurora – Viale Vittorio Emanuele II 25, 27100 Pavia (PV) phone: +39 0382 23664, e-mail: info@hotel-aurora.eu
Located close to the railway station, Hotel Aurora can be easly reached either by train or by car.  It is a hundred metres far from the historical centre, heart of the city with his historical monuments. All  rooms, confortable and cosy, are furnished with taste and attention to every detail. Soundproof windows, not located close to the street, guarantee an excellent quality of your sleep. WiFi connection, LCD television, telephone and a writing desk will make you feel at home during your stay in Pavia. The air conditioning will allow you to have exactly the desired temperature. Each room has a private bathroom with shower and hairdryer. Safe box with electronic code set by the customer in all rooms, security staff always ready for any need during the night, a modern fire-fighting system complete the service that the hotel offers for your safety.
Single room: 85 €
Double room for single use: 95 €
Double room: 105 €
(breakfast included)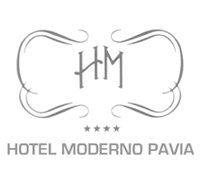 Hotel Moderno – Viale Vittorio Emanuele II 41, 27100 Pavia (PV) phone: +39 0382 303401, e-mail: info@hotelmoderno.it
It is an elegant, 4-star hotel set in an historic building in the centre of Pavia, near the main railway and coach stations, and just off Piazza della Minerva. At Hotel Moderno you can enjoy free use of the internet hotspot and free bicycles to explore the city centre. Stay in classically decorated, soundproofed rooms and suites at Hotel Moderno. Here you will find air conditioning, LCD TV with satellite channels, and Wi-Fi access. Relax in the small, comfortable wellness centre. Hotel Moderno offers a hot tub and a Turkish bath. Dine in the refined hotel restaurant Peo. Here you can savour regional cooking for both lunch and dinner. Hotel Moderno features an American bar and 2 meeting rooms.
Single room: 110 €
Double room for single use:125 €
Double room: 140 €
(breakfast included)

______________________________________________________________________________________
Other options (with prices ranging from 45 to 60 €/night)  can be University Colleges.
The University of Pavia has the most estensive Colleges and Residence Hall system in Italy.
PLEASE CONTACT, AS SOON AS POSSIBLE, THE ISMEC2014 SECRETARY (ismec2014@unipv.it) TO RESERVE A ROOM AT THE UNIVERSITY COLLEGES.